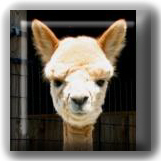 Would you like to know when a new alpaca baby (a cria) is born on the farm? How about learning of an upcoming alpaca open house? Events like these are what this email list is all about. It is free to subscribe to and email is only sent once in awhile when there is a new event to tell you about. You can easily unsubscribe at any time you wish.
If you are interested in this alpaca farm, fill in your name below (only first name is required but you can give your whole name if you want to) and your email address. Be sure to look for the confirmation email that you will receive after you subscribe and click the link in the email to confirm that you want to be on this Alpaca Events email list (you will not actually be subscribed until you click the confirm link in that email that you receive).
Thanks for wanting to be kept up to date with happenings on our alpaca farm!