About Strawberry Hill Alpacas, LLC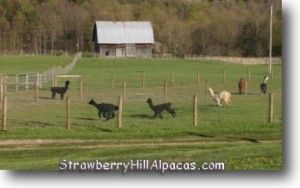 Strawberry Hill Alpacas in located on land that has been in the Rhodes' family for three generations. The land was used over the years for many farming ventures, including dairy farming, raising chickens, and a "Pick-Your-Own" strawberry farm that our parents operated from 1983 – 1999. Strawberry Hill Alpacas began as an idea in 2007 when Kevin read an article that sparked his interest, and the research into alpaca farming began!
After visiting multiple farms, going to shows, and learning as much as we could, we purchased 5 foundation females of various colors and strong genetics. We then built a 30' by 50' barn, planted orchard grass (where the strawberries used to be), and put up a solid fence around our new 5 acre pasture. It was an exciting day in August 2009 when our alpacas arrived at their new home!
We wanted multiple colors, and currently have white, black, gray, brown, and fawn. Having high quality genetics was a high priority for us, so we have bloodlines from top herdsires such as MFI Peruvian Jericho, Snowmass Nova, and MFI Peruvian Black Mesquite. And of course, all of our crias are being named after varieties of strawberries, so they have unique names like Earliglow, Jewell, Mic Mac, and Mesabi.
Linda (Kevin's sister) and her husband, Mike, live at the farm and take care of all the daily tasks associated with our growing herd (now at 24). Kevin and his wife, Mary, live near Allentown, and make at least monthly trips to the farm for herd health days, and to help out with other farm work as needed.
Contact either one of us to arrange a farm visit, of if you have questions about our farm. We would love to have you visit!
Kevin – (484) 347-6185, or by e-mail…kevincfp@ptd.net
Linda – (570) 434-2681