Click on any thumbnail photo to see the full size image and a further description.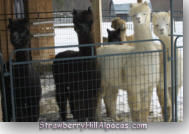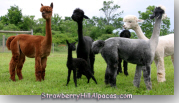 Photo on Left: Four of our adult female alpacas seem curious about having their picture taken.
Photo on right: A cria 1 hour old standing in the midst of a group of adult female alpacas.



Photo on left: Our four black alpacas walking together. Click on the photo to see their names.
Photo on right: Alpacas eating a meal of hay. One looks a bit amusing.