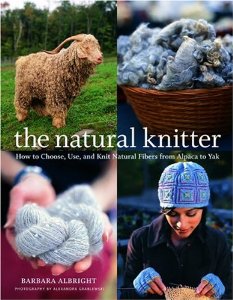 The Natural Knitter: How to Choose, Use, and Knit Natural Fibers from Alpaca to Yak

This book talks about animals that produce natural fibers from which yarn is made, as well as plants that also produce natural fibers used for knitting and other crafts.
Learn about these natural materials, as well as enjoy knitting the projects that are provided in the book.
---
Following are photos of a few examples of products made from fleece of our alpacas. At this time, our alpaca products are sold at Open House Events and at a local consignment shop. However, if you are looking to buy a specific item, feel free to contact Kevin Rhodes at 484-347-6185 or Fax: 610-366-7686.

If you are a Spinner, contact us for purchase of raw fleece for spinning.
Brown and cream tweed 3 ply yarn
made with fibers from our alpacas MarlyAnna and Red Chief.
Approx. 4 oz skein.
---
100% Alpaca Yarn – Red / White Tweed 2 Ply Sport Weight
Approx. 4 oz. skeins.
Made with fibers from our alpaca Earliglow.
---
Hand Knitted Alpaca Socks (Men or Women) in size Medium
Made from the fiber of our alpacas, MarlyAnna and Red Chief.
100% Alpaca, very soft and very warm.
Color: a Brown Tweed